Patient feedback management solution built to improve
Patient Experience Hospital Efficiency Healthcare Quality
Manage your patient experience from one single dashboard. Know your NPS(R), feedback, department-level experience, corrective steps, and much more.
Designed for large hospitals, clinics, diagnostic centers and all kinds of healthcare providers.
Listen
to your patients through surveys
Listen to your health seekers and employees at every step of their touchpoint with your hospital. Give the patients the flexibility to give feedback at their choosing. This way, you get to capture the right emotions and experience.
Simple for patients and effective for hospitals
Ready-to-use personalized forms based on patient interactions
Pre-built templates for each department
Digitize and capture feedback during floor supervisor or patient experience manager rounds
Send surveys and feedback forms in local languages
Pre-filled based on patient CRN
Customize forms as per your hospital goals
Anywhere access - In person, App, Web, email and Kiosk
Integrates with portals, Google review and social media tools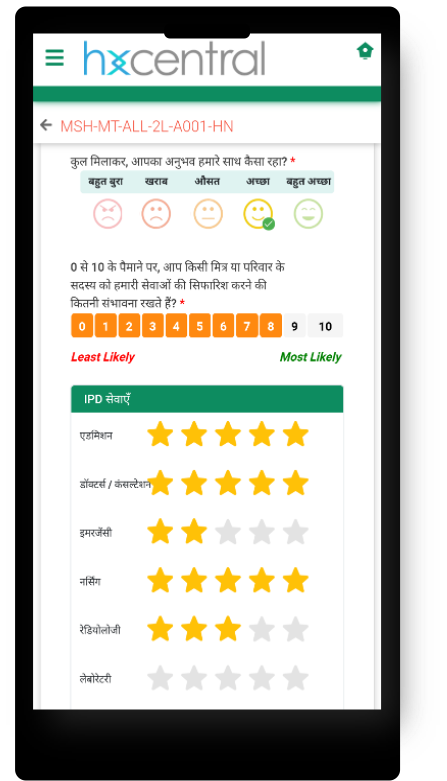 Analyze
with real-time dashboards and analytics
Analytics gives you in-depth pre-built and custom dashboards, performance by department, and the net promoter score. HxCentral patient feedback management solution goes beyond analysis and gives you real insights into the improvement areas, noteworthy processes, and ability to reward the star performers.
Automated insights with text and sentimental analytics
Net promoter score and experience rating
Department level performance insights
Insights into Response rates and improvement areas
Alerts on star performers and noteworthy processes
Pre-configured dashboards with ability to create custom reports
Double click into department and staff-level
Fully visual and intutive dashboards
Act
with automated alerts and actions to build accountability
HxCentral's action trackers and the auto-generated risk scores enable you to prioritize and track the ongoing feedback. Our solution will assist you to define the RCA team and do the required RCA conveniently. You can trace the corrective and preventive actions from its planning to execution with just a few clicks.
Get the full power of a centralized complaint management solution
Sort the feedback and send automated triggers to departments on actions to be taken
Create tasks and set ownership
Alerts to track, monitor and report on non-compliance and unfinished tasks
Automated progress reports to the leadership team
Drive every actionable feedback till closure
Drive RCA and CAPA for every identified indicators
Transform
patient experience-driven healthcare
5X
Increase in feedback collection with the same team for a large hospital
25%
Increase in Net Promoter Score for a multi-specialty hospital
9%
Increase in P-SAT in 2 quarters for a chain of hospitals
Business Efficiencies | Brand Reputation | Topline and Bottomline Growth | Quality Healthcare
Many Channels. The Only Solution You'll Ever Need for Patient Feedback Management
Give the flexibility to your health seeker to share feedback from multiple channels of their convenience.
Take feedback through the convenience of ubiquitous WhatsApp and SMS.
Personalize the surveys and feedback

Send bulk messages to your subscribers
Send instant messages after service delivery
Take surveys at hospitals and at the health seeker's convenience.
Set up self-run kiosks that are safe and secure
Get instant reports on feedback
Take feedback 24X7
Works seamlessly on any network
Send instant surveys and feedback forms through personalized emails.
Send links to the detailed or summary surveys
Automate to conduct instant surveys
Personalize your surveys based on patient's healthcare needs
Get patient feedback through online forms and let health seekers share reviews on social channels.
Integrate with Google reviews to let patients share it online
Create QR codes and drive more feedback
Plugins and widgets to integrate with your website and other channels
Start a 30-Day Free Trial !
No Credit Card Required.
Net Promoter® and NPS® are registered trademarks and Net Promoter Score and Net Promoter System are trademarks of Bain & Company, Satmetrix Systems and Fred Reichheld.